We believe that the Bishop and all Christians eager to play a constructive role in this conflict should support the United States government's call for reform of Palestinian institutions and the rejection of the terrorist leaders of the past.
Israel has made clear its commitment to continuing negotiations, but has also made it clear that there is no hope in continuing to negotiate with Yasser Arafat and the PLO. Given the continuing campaign of terror waged by the PLO against Israel and its citizens, it is naive to expect the current PLO leaders to change. The Palestinians must, for their own good, see that there is no hope in terror, and that the world has run out of patience with the Arab refusal to accept the right of Jews to live in peace with their Arab neighbors.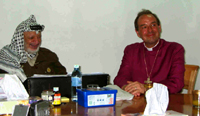 Bishop Thomas Shaw with PLO Chairman Yasser Arafat.
HOW CAN YOU HELP?

•
Send a message to the Bishop
•
Put up our flyers at your church (print the statement of principles, or ask us for more copies)
•
Schedule a speaker for one of your church's adult forum sessions
•
Contact your local synagogue with information about the Alliance -- let them know that not all Episcopalians agree with the Bishop

See our How can you help? page for more information.