Why we think the Bishops are wrong: (part 4)
The Bishops claim that the Palestinians have lost hope, and have for this reason become desperate. In order for peace to come, they must see some sign of progress.
This is an entirely plausible notion that is unfortunately contradicted by the experience of the Oslo peace accords. In 1993 the Palestinians got the hope they were presumably looking for: Israel agreed to let the PLO - its leaders and militamen - return to the West Bank and Gaza from their exile in Tunisia. Furthermore, the Oslo Accords committed the Israeli government to full cooperation with the new Palestinian Authority, which would receive financial subsidies from Israel. In return for the PLO's agreement to a peaceful resolution of all issues between the two sides, Israel agreed to withdraw its military forces from Arab villages and towns. But the result of this "hopeful" peace process was a ratcheting up of the terror campaign to unprecedented levels, culminating in the full-scale warfare of the so-called "Al-Aqsa intifada" in September 2000.
[next]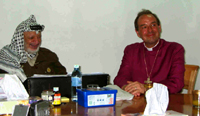 Bishop Thomas Shaw with PLO Chairman Yasser Arafat.
HOW CAN YOU HELP?

•
Send a message to the Bishop
•
Put up our flyers at your church (print the statement of principles, or ask us for more copies)
•
Schedule a speaker for one of your church's adult forum sessions
•
Contact your local synagogue with information about the Alliance -- let them know that not all Episcopalians agree with the Bishop

See our How can you help? page for more information.